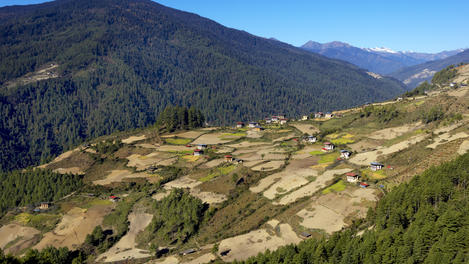 Overlooking houses and fields in the mountains of Western Bhutan. Photo by Johnny Haglund
30 Dec. 2010: Wondering what the new year will bring? Here's the word on the ground from our Asia-Pacific travel editor, Shawn.
Budget airlines are here to stay. Frustration with budget airlines hit a new high (or low) in 2010 – but that's not stopping people from travelling with them. More routes AND airlines are opening up in 2011: Malaysia Airlines is expanding its budget Firefly routes and Thai Airways is planning on launching its budget Thai Tiger carrier.
Tired of 'independent' travel? What about a tour…an awesome one? It's getting harder and harder to get off the beaten path. In a funny twist, 2011 will be the year that the tours beat out the independent traveller to far-flung destinations. Looking for a destination that gives you some bragging rights? Try North Korea – possible to visit as part of an organised group. It's the only way to get a glimpse behind one of the world's most fascinatingly closed countries. Communism doesn't appeal? Check out Bhutan. It's a Himalayan Shangri-la, where snow-capped mountains and primeval forest are home to monasteries, dzongs and a uniquely Buddhist culture. Tourism to Bhutan is set to double by 2012 as word is getting out, so get in as soon as you can.
Technology and travel: intertwined. The other two travel editors might try to tell you that 2011 is the year of techless travel. Sorry guys; you're wrong. In 2011 tech will matter more than ever. Online portals are the best place for deals. Blogging, social networking and photo websites are being used to share memories, reviews and suggestions. Travel applications and ebooks for mobile devices abound. The smart phone is now an essential travel tool for navigation, connecting with others and entertainment.
Travel by exchange rate. The Global Financial Crisis has produced an interesting flow-on effect for travellers. Iceland's financial nadir – and their devalued currency – was good for inbound tourists. The poor US economy also led to a devaluation of its currency. What this means is that for best value, you should go where your home currency is strongest. Take the case of Australia, where the dollar is almost at parity with the US greenback and just above the Canadian loonie. Perfect for a trip to North America. Take advantage of currency swings to book tours, tickets and courses in advance.
Foodie destinations. Buzzwords such as 'slow food', 'organic' and 'locavore' continue their rise. In 2011, expect more food pilgrimages. Think of restaurants as destinations and countries as gastronomic tableaux. Check out the spectrum of options, from hunting for an elusive cancellation during elBulli's final year to roaming the spice-filled streets of Thailand, Singapore and Malaysia. Bon appétit!
China: the dragon awakens. According to a recent UNWTO tourism report, China was the fourth-most-visited country in the world in 2009 with 50.9 million visitors (it's set to move into third spot for 2010). By 2020, it's going to be the most visited country in the world. That makes 2011 still manageable. The vast country has many things going for it. Culture and modernity come together in Beijing, while Shanghai has oodles of Concession charm. But head out into the countryside and you'll find landscaped rice terraces, terracotta warriors, mist-shrouded mountains, charming ancient villages and more – all connected by a highly efficient rail system. In late 2011, a new high-speed rail link will connect the 1305km between Shanghai to Beijing in less than four hours. It'll also be the 100th anniversary of the Chinese Republican Revolution and the fall of the last emperor. Expect loads of celebrations, Chinese-style.
The Australian Oprah House. Oprah Winfrey's shindig around Australia in late 2010 brought the country worldwide attention, and 2011 will be the year that the rewards will be reaped. While Oprah stuck to the well-known cities and sights, the whole country is your oyster. Try driving through the desert-filled outback, or hiking rainforests in tropical Queensland. Sporting fans will no doubt be planning to visit the Australian Open, Formula 1, Formula 1 GP, the Ashes, the Presidents Cup (will Tiger make an appearance?) and the Santos Tour Down Under (Lance Armstrong's last international race).
Malaysia, perfect Asia? Thailand, Indonesia and Vietnam are too touristy; Cambodia and Laos can be challenging for inexperienced travellers. Enter Malaysia, Southeast Asia's Goldilocks. There's buzzy KL, Portuguese-influenced Melaka, former British bastion Penang, a swathe of rainforest and highlands in between, and beach resorts straddling the coasts. Don't forget East Malaysia. Diving? Check. Beaches? Check. Orangutans? Hell yeah.
The Shire returns to New Zealand. It's already on the circuit for Lord of the Rings film buffs, but fans have another reason to rejoice as filming for The Hobbit duology (yes, it's a real word, we looked it up) starts in February 2011. Middle Earth is back! Expect another wave of movie-related cottage-industry tourism to boom. To be honest, New Zealand is beautiful enough that it doesn't need the films to prop it up. Most parts feel unspoilt and yes, it's true that there are more cows than people in NZ (4.4 million cows to 4.31 people). On a completely different note, the Rugby World Cup is going to be played around NZ from 9 September to 23 October. Time to catch the All Black's Haka – live.
Source: By Shawn Low (Lonely Planet Australia)