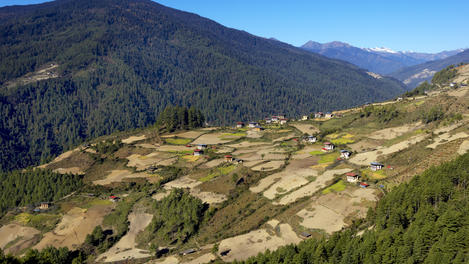 Overlooking houses and fields in the mountains of Western Bhutan. Photo by Johnny Haglund
30 Dec. 2010: Wondering what the new year will bring? Here's the word on the ground from our Asia-Pacific travel editor, Shawn.
Budget airlines are here to stay. Frustration with budget airlines hit a new high (or low) in 2010 – but that's not stopping people from travelling with them. More routes AND airlines are opening up in 2011: Malaysia Airlines is expanding its budget Firefly routes and Thai Airways is planning on launching its budget Thai Tiger carrier.
Tired of 'independent' travel? What about a tour…an awesome one? It's getting harder and harder to get off the beaten path. In a funny twist, 2011 will be the year that the tours beat out the independent traveller to far-flung destinations. Looking for a destination that gives you some bragging rights? Try North Korea – possible to visit as part of an organised group. It's the only way to get a glimpse behind one of the world's most fascinatingly closed countries. Communism doesn't appeal? Check out Bhutan. It's a Himalayan Shangri-la, where snow-capped mountains and primeval forest are home to monasteries, dzongs and a uniquely Buddhist culture. Tourism to Bhutan is set to double by 2012 as word is getting out, so get in as soon as you can. Continue reading Lonely Planet's travel picks for 2011